At the Gate of Heaven
Arranged by
Melissa Roth
Series Editor: Judith Willoughby
Voicing: Two-part treble
Instrumentation: piano
Catalog number: AMP 0624
Price: $2.10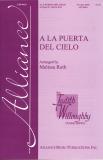 A LA PUERTA DEL CIELO
This charming Basque lullaby consists of a melody in two verses with a gentle refrain and is built on a diatonic scale, ascending and descending by step and small skip. The harmony in the second verse derives from the melody and is well prepared. The harmony in verse 3 emerges from a straightforward two-part canon based upon verse one (with a minor adjustment to the canon in part I, bar 62). The rocking piano accompaniment enhances the sense of comfort inherent in this folksong. This piece is ideal for beginning choruses or for any two-part treble ensemble that wishes to program a short work with immediate and heartfelt appeal.
Judith Willoughby
The Basques are an ancient culture of people who have lived in the western Pyrenees Mountains, along the Bay of Biscay in modern day Spain and France for thousands of years. The Basque homeland includes the Spanish provinces of Navarra, Viscaya, Alava, and Guipuzcoa and the French provinces of Labourd, Soule, and Basse Navarre. The Basque people predate the migration of Indo-European tribes who later developed into modern Europeans. The Basque people have managed to preserve their culture despite many conquests.
The Basque people probably first migrated to the New Mexico region with Spanish explorers in the 1500s. More recently, Basque immigrants have settled throughout the American West as sheepherders. Although this lullaby was collected from Basque people in New Mexico in 1932 for the Federal Music Project of the New Deal, it is sung in Castilian Spanish, rather than the Basque language, Euskera.
1. A la puerta del cielo vendan zapatos
Para los angelitos que andan descalzos.
Duermete, n-ño, Duermete, niño,
Duermete, niño, arru, arru

2. A los niños que duerman Dios benedice
A las madres que velan Dios las asiste.
Duermete, niño, Duermete, niño,
Duermete, niño, arru, arru

Translation:
1. At the gate of heaven little shoes they are selling,
For the little bare-footed angels there dwelling.
Slumber my baby, slumber my baby
Slumber my baby, arru, arru

2. God will bless children who go to sleep
God will help mothers who pray
Slumber my baby, slumber my baby
Slumber my baby, arru, arru

Melissa Roth