Composed by Tommaso Traetta
Edited by
Martin Banner
Voicing: SSA
Instrumentation: Keyboard, *opt. instrumental score
Catalog number: AMP 1160
Price: $3.50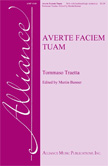 *Instrumental ensemble: 2 violins, viola, cello, bass and continuo. Orchestral score and instrumental parts are available for sale directly from the publisher: AMP 1160SP
EDITOR'S NOTE
Tommaso Traetta, born near Bari, Italy in 1727, was a student of Nicola Porpora and Francesco Durante at the Conservatorio di Santa Maria di Loreto in Naples. Known primarily as a composer of operas, Traetta took up residence in various cities throughout Europe, including Parma, Mannheim, St. Petersburg and Venice, where in 1765 he was appointed director of the Conservatorio dell'Ospedaletto, for which the Miserere in F minor was most probably composed. Traetta died in Venice in 1779.
AVERTE FACIEM TUAM was composed by Traetta in 1767 as part of his Miserere in F Minor. The work is scored for SSA choir, two violins, viola, cello, bass and continuo. This edition is based on a handcopy by Johann Simon Mayr prepared sometime between 1800 and 1810, preserved in the music archive of Biblioteca Civica "Angelo Mai" in Bergamo, Italy, Mayr 276/13. The score is laid out over fifteen pages, seven staves per page.
Latin

Averte faciem tuam a peccatis meis, et,
omnes iniquitates meas dele.

Cor mundum crea in me Deus, et spiritum
rectum innova in visceribus meis.

Ne projicias me a facie tua, et spiritum san-
ctum tuum ne auferas a me.


English

Turn your face away from my sins,
and blot out all of my iniquities.

Create a clean heart in me, God, and
renew a right spirit within my bowels.

Do not cast me away from your face,
and do not take your holy spirit
from me.
The present edition adheres closely to the above mentioned source, noting editorial markings in parentheses. Voice parts, notated in soprano and alto clefs, were rewritten in treble clef; phrase markings in the voice parts were added where two or more notes occurred for a single syllable of text; textual underlay, when given only in the Soprano I part, was added to the other voice parts.
Martin Banner