Composed by
Giorgio Susana
Edited by
Z. Randall Stroope
Voicing: SATB a cappella
Catalog number: AMP 1128
Price: $2.20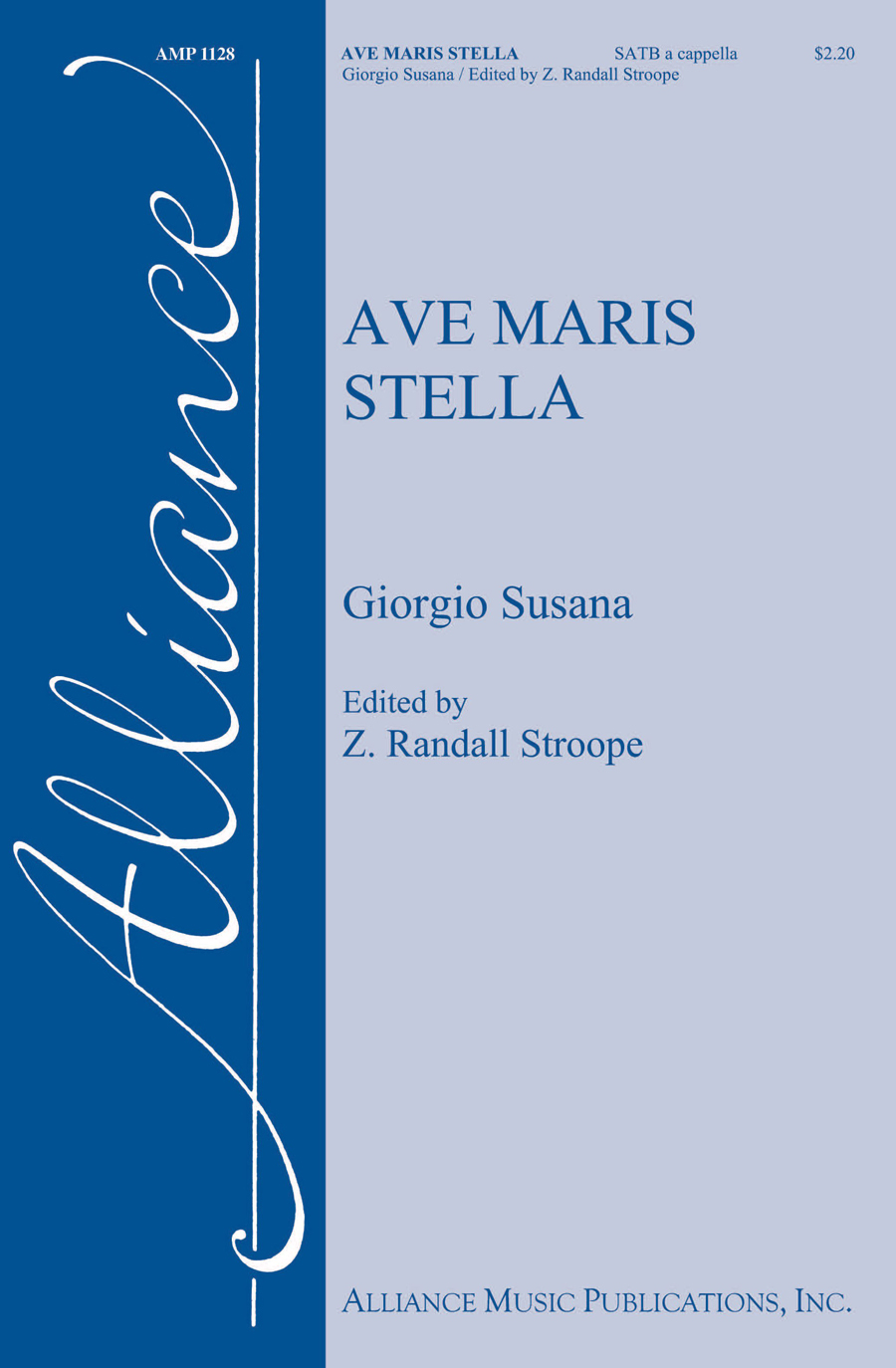 To see and listen on YouTube, click here
Ave maris stella is a Gregorian hymn that has always intrigued me for its lyricism and positivity - even from the title (translated, "I greet you, star of the sea"). My interpretation of this text suggests feelings of serenity and innocence. The opening motive, introduced by the tenors, is freely and lyrically sung, reappearing throughout the composition with imitative variations. Then, the motive is presented by the sopranos, ending with a "muted" and slower delivery: funda nos in pace (immerse us in peace). At measure 13, the rhythm becomes more fluid ("con libertý"), with the treble voices singing sixteenth notes. At this point, the work requires great flexibility and emotion, with a slight ritardando before the breath at the end of each bar (loosen, restores the light ý). The most profound and desperate plea begins at bar 23 - Nos culpis soltos, Mites fac et castos (Make us, freed from our faults, meek and chaste). Then, the Ave maris stella theme is reprised, and the initial light is "rekindled again." The choir sings in joyful praise to the "creator of all things!"
Giorgio Susana
Giorgio Susana is an Italian pianist, composer, educator, choral and orchestral conductor. He has performed in many prestigious concert halls in Italy, France, Slovenia, Croatia, Austria, Germany, Argentina, Taiwan, and Japan. He frequently collaborates with chamber ensembles and larger musical entities which represent a variety of styles. Giorgio is also a frequent adjudicator in national competitions and festivals.
Since 2006, Giorgio has been the conductor of the well-known male choir, "Corocastel." As a pianist, he collaborates with opera singers as well as vocal chamber ensembles. He has an eclectic musical palette, having composed choral music, chamber music, sacred oratorios, and symphonic music, as well as musicals. His compositions and arrangements are regularly performed in his native Italy, as well as international choral competitions by prestigious choirs and conductors. Giorgio has received awards in many national and international competitions as composer and conductor.
Giorgio is the regional artistic commissioner of A.S.A.C. Veneto and the City of Vittorio Veneto National Choir Competition, and is Teacher of Repertory Analysis in the Biennial Academy for Choir Conductors, "Piergiorgio Righele".
For a more complete biography and catalog of works and recordings, please go to www.giorgiosusana.it/en/
From Z. Randall Stroope
I met Giorgio Susana while preparing for a concert in Mel, Italy, with my very good friend, Manolo Da Rold (a wonderful composer in his own right). There is no doubt that Giorgio has an incredible sense of communicating with singers and audiences through his "compositional voice." Ave maris stella is stunning, and I immediately programmed it following a performance of the work by Corale Zummelese in Italy. It will fast become a favorite among singers and audiences alike.