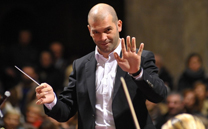 Giorgio Susana is an Italian pianist, composer, educator, choral and orchestral conductor. He has performed in many prestigious concert halls in Italy, France, Slovenia, Croatia, Austria, Germany, Argentina, Taiwan, and Japan. He frequently collaborates with chamber ensembles and larger musical entities which represent a variety of styles. Giorgio is also a frequent adjudicator in national competitions and festivals.
Since 2006, Giorgio has been the conductor of the well-known male choir, ęCorocastel.ę As a pianist, he collaborates with opera singers as well as vocal chamber ensembles. He has an eclectic musical palette, having composed choral music, chamber music, sacred oratorios, and symphonic music, as well as musicals. His compositions and arrangements are regularly performed in his native Italy, as well as international choral competitions by prestigious choirs and conductors. Giorgio has received awards in many national and international competitions as composer and conductor.
Giorgio is the regional artistic commissioner of A.S.A.C. Veneto and the City of Vittorio Veneto National Choir Competition, and is Teacher of Repertory Analysis in the Biennial Academy for Choir Conductors, ęPiergiorgio Righeleę.
For a more complete biography and catalog of works and recordings, please go to www.giorgiosusana.it/en/