Composed by Rosephanye Powell
Series Editor: Judith Willoughby
Voicing: SSAA a cappella
Catalog number: AMP 0584
Price: $2.70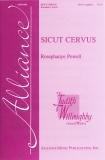 Sicut Cervus
Sicut cervus desiderat ad fontes aquarum, ita desiderat anima mea ad te Deus.
As the hart panteth after the water brooks, so panteth my soul after thee, O God.
Sitivit anima mea ad Deum vivum: quando veniam et apparebo ante faciem Dei mei?
My soul thirsteth for God, for the living God: when shall I come and appear before God?
Fuerunt mihi lacrymae meae panes die ac nocte, dum dicitur mihi quotidie, Ubi est Deus tuus?
My tears have been my meat day and night, while they continually say to me, Where is thy God?
Rosephanye Powell's "Sicut Cervus" is a powerful and ethereal setting of a timeless text. Structured loosely in a rondo form (ABACA), the A section is reminiscent of the mysticism and otherworldly quality associated with plainchant (although it is not monodic). The A sections alternate with increasingly powerful polyphonic sections, which explore the questions raised in the psalm text. The contemplative ending offers, in its final moment, a harmonic "ray" of hope.
This selection is an ideal choice for medium to advanced women's choirs.
Judith Willoughby
from the Judith Willoughby Choral Series
recording performed by Miami University Choraliers
Oxford, Ohio
J. Dr. William Bausano, director