| | |
| --- | --- |
| | |
Composed by Robert Schumann
Arranged by
Dan Miner
Voicing: two-part*
Instrumentation: piano
Catalog number: AMP 1163
Price: $2.30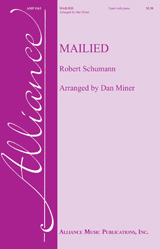 *This piece may be used with SA or TB voices. If sung with TB voices, voice parts should be sung one octave below the written pitch.
PerformanceNotes:

Mailied is the ninth piece in Robert Schumann's Liederalbum für die Jugend, Opus 79. Originally written as a vocal duet, it is scored and edited in this version for 2-part choir.
Tone quality for the piece should be light and weightless. In Opus 79, the piano is as much a part of the music as are the vocal lines. Therefore, careful study should be given to the interplay between the accompaniment and vocal parts.
May Song

O come dear May and make the trees green.
And let the small violets bloom beside the running stream.
O how we long to see the small blooms, to see the blooms again,
And into the far distance we go to the fresh open air.

O come, fair skies, so all things bloom again,
Then cries of the children become a joyful song.
O come and bring the many roses, the lovely roses,
And also bring the nightingales, bring some lovely cuckoos, too.

Paraphrase by Dan Miner