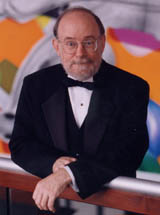 Robert Nelson received his DMA from the University of Southern California where he studied composition with Ingolf Dahl and Halsey Stevens and opera production with Walter Ducloux. He is currently Professor of Music Theory and Composition at the Moores School of Music. He has long been interested in theatrical music, both as a composer and coach/conductor. This interest meshes with a life-long interest in the widest range of musical idioms – from the most avant garde contemporary effects to the most current jazz and popular styles. Writing for the theatre has allowed him to explore all these various idioms and employ whichever were most appropriate to the project at hand.
His theatrical experience has included a long involvement as composer for the extraordinary mime troupe in the University of Houston's School of Theatre. His collaborations with director Claude Caux resulted in music that ranged from an acid rock score for an adaptation of Poe's Tell-Tale Heart to a highly expressionist score for a dramatization of Schiller's Darkness to a neoclassic suite composed for an extended Pilobolus-like mime based on the graphics of M.C. Escher. He also served for fifteen seasons as music director and composer for the Houston Shakespeare Festival, during which time he composed songs and incidental music for nearly the entire canon of Shakespeare plays.
Nelson has always loved the voice and has composed numerous choral works and music for solo voice. His interest in both vocal music and theatrical music led him naturally to opera. In addition to A Room With a View, with libretto by Buck Ross, his operatic works include Tickets, Please and The Demon Lover, both one-act chamber operas with libretto by Sidney Berger. Tickets, Please has been staged by, among others, Des Moines Metro Opera, Opera Milton Keynes in England, Flordia State University, and the University of Houston. His most recent collaboration with Buck Ross is Shadows and Music, a dramatic cycle for soprano, mezzo-soprano, violin, and piano based loosely on the lives of Lillian and Dorothy Gish.