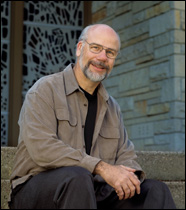 Richard Bjella, professor of music, was just appointed Director of Choral Studies at Texas Tech University, School of Music. Under his direction were the Concert Choir, Viking Chorale, and in the past the Vocal Jazz Ensemble, Collegium, Chamber Singers and the Choral Society at Lawrence. All of the ensembles have sung at state, regional or national conventions in the last fifteen years. The Concert Choir was most recently selected for the 2009 National Amercan Choral Directors Association Convention in Oklahoma City. They were one of only four college/university mixed ensembles to be selected out of 72 college submissions.
Bjella has conducted outside the United States in Prague, Paris, Lucerne, Vilnius, Seoul, and London and has guest conducted over 350 festivals and workshops in 25 states including recent appearances as the Iowa, Wisconsin (twice), Delaware, Illinois and Missouri All–State conductor. Bjella made his Alice Tully Hall premiere in New York in 2003 and appeared in workshops and festivals for students, church and community choir directors, conductors, and teachers in Minnesota, North Dakota, South Dakota, Florida, Illinois, Wisconsin, North Carolina and California in 2004. He was invited as the only American conductor and lecturer for the Korean National Choral Directors Convention in Seoul, KOREA in 2005, and at various festivals and workshops for teachers and students in Illinois, Minnesota and California. The Lawrence Concert Choir was honored to be a part of the 2006 NC ACDA Convention in 2006 and as a result of that performance Bjella was invited to conduct the professional choir, Polifonija on a four-city tour in Lithuania. Other guest conducting outside of Wisconsin this season includes performances in Michigan, Arizona, Minnesota, Mississippi, Nebraska, Kansas, and Illinois In 2007 he conducted seminars in Illinois at their summer Retreat for the Illinois Chapter of ACDA, and conducted the Iowa All-State Choir in 2008 as well. He was invited back to the Illinois Summer Convention to conduct the director's chorus for 2009 as well.
Bjella has served as President of the Wisconsin Choral Directors' Association, has been a part of the CMP leadership team for Wisconsin Music Educators Association, and various state and regional leadership positions with ACDA and WMEA as well. Bjella has also taught conducting and choral methods at Silver Lake College and University of St. Thomas during their summer programs for teachers and at countless conventions and workshops he has given many seminars for teachers. He was been inducted into the Washington High School Fine Arts Hall of Fame, and is also listed in the World Concert Artist Directory of Conductors and was most recently awarded the Hanns Kretzchmar Award for Excellence in the Arts in 2006 and received the 'Lawrence Excellence in Teaching Award' in 2007.
His ensembles have been features on several classical broadcasts on Wisconsin Public Radio and in the most recent Packer video called the "Legend of Lambeau FieldWar Requiem, Mozart Great Mass in c minor, Requiem, Brahms Requiem, Bach B Minor Mass, Verdi Requiem (on CD), Mahler Resurrection Symphony, Beethoven Ninth Symphony (on CD), the Bach St. John Passion and Magnificat, Stravinsky's Les Noces, Penderecki's Credo, and Shostakovich's Execution of Stephan Razin, Ralph Vaughan Williams, Dona nobis, Handel's Messiah and Orff's, Carmina Burana.
Their recent CD entitled VOICES... was released to the following reviews: "...the best I've heard Past Life Melodies" writes Dennis Shrock, former editor of the ACDA Choral Journal, "Excellent CD – guts, sensitivity, tonal variety, interesting repertoire" writes Craig Arnold of Manhattan Productions, I just need to tell you how perfectly fabulous it is writes Richard Westenburg of Musica Sacra, and Bob Youngquist NC ACDA Past President writes Prayer of the Children made me run to the computer to thank you.