Composed by Antonio M. Russo
Edited by
Eduardo Garcia-Novelli
Series Editor:
Eduardo Garcia-Novelli
Voicing: SATB divisi
Instrumentation: opt. piano
Catalog number: AMP 1154
Price: $2.40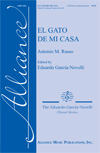 To see and listen on YouTube, click here
From Eduardo Garcia-Novelli
Director of Choral Studies, University of Kansas
It is a privilege and an honor to be the editor of this new series with Alliance Music Publications Inc. dedicated to excellent choral music in the Spanish language. I am excited to share with you the series' inaugural publication: El gato de mi casa (My House's Cat), a unique composition by Italian-Argentinian composer Antonio María Russo, who was my first choral conducting teacher.
About the composer

Antonio María Russo (1934-2021) had an extensive and brilliant career, beginning as a prominent choral conductor and a revered pedagogue who taught generations of conductors. He went on to become an orchestral conductor, specializing in choral-orchestral repertoire and opera. In addition, he was a prolific, award-winning composer and arranger.
Born in Italy, Maestro Russo immigrated to Argentina as a teenager. His long career included conducting all major symphony orchestras in Argentina and many across South America, conducting several professional choirs (Teatro Colón, National Polyphonic Choir, etc.), and leading Juventus Lyrica Association for over 20 years, delving into operatic repertoire. Major compositions include Missa Corpus Christi (1998), Magnificat (1999), and Pasión según San Juan (2002). Antonio Russo was a seminal figure of the music scene in Argentina and a beloved artist-teacher who garnered countless honors and awards, earned respect and admiration, and left an immense legacy.
About the work
The gato (cat) dance, arguably the most popular folk partner dance in Argentina, was born during the first decades of the 19th century. Without distinctions of age, race, or social class, the gato developed as a joyous and agile dance in which partners flirt with elegance and prudence.
El gato de mi casa is an original composition, albeit based on an anonymous traditional theme. Russo ingeniously makes an association between the lyrics (related to the animal) and the gato as a dance. It should be noted that, while the dance form served as inspiration for this choral work, the piece was never intended to be an actual gato, given the dance's specific structural and compositional requirements. Even so, Russo still utilizes a combined 6∕8 + 3∕4 meter, which is so pervasive in all Latin American folk music.
The original composition of El gato de mi casa was completely a cappella. Years later, Russo added a virtuoso piano accompaniment, which brought even more brilliance and excitement. Choirs can perform this beautiful piece either way, enabling flexibility for programming.
Text and Translation
El gato de mi casa
es muy ligero
corriendo a los conejos
cazó unos teros.

El gato de mi casa
es muy ligero,
corriendo a los ratones
cazó agujeros.

El gato de mi casa
es diferente,
se esconde en la cocina
si viene gente.

Es éste el gato hermoso
que a todos gusta,
pues los maullidos suyos
a nadie asustan.

           

My house's cat
Is very fast
Chasing rabbits
It caught southern lapwings.

My house's cat
Is very fast
Chasing mice
It caught holes.

My house's cat
is different,
it hides in the kitchen
If people come to visit.

Is this the beautiful cat
That everybody likes,
Because its meowing
Scares no one