Composed by
Laura Farnell
Voicing: SSA
Instrumentation: piano
Catalog number: AMP 1113
Price: $2.10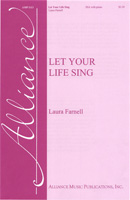 To see and listen on YouTube, click here
"Let Your Life Sing" is based on and inspired by Amy Lowell's poem, "Listening", included in its entirety below. The poem conveys the idea that singing frees the beautiful essence of an individual (including all his or her songs, thoughts, and doings) and that each person's essence is the true music, rather than the song itself. The added chorus text was inspired by a quote from Fredrick Buechner and encourages one to discover both his or her own unique passion, as well as to find how that passion can meet the world's needs.
Lowell's rich, descriptive writing lends itself to text painting, or capturing a textual idea through the motifs and patterns of the music. Strive for expressive singing throughout, especially in portions of the piece (such as m 37-55) where text painting is prevalent. Also, listen for the many iterations of the opening "Let your life sing" motif, which is repeated to highlight the text's urgency and importance. Finally, as you perform this piece, seek not only to share the text's meaning with your audience, but also to internalize and live out its message.
Laura Farnell
'Tis you that are the music, not your song.
The song is but a door which, opening wide,
Lets forth the pent-up melody inside,
Your spirit's harmony, which clear and strong
Sings but of you. Throughout your whole life long
Your songs, your thoughts, your doings, each divide
This perfect beauty; waves within a tide,
Or single notes amid a glorious throng.
The song of earth has many different chords;
Ocean has many moods and many tones
Ye t always ocean. In the damp Spring woods
The painted trillium smiles, while crisp pine cones
Autumn alone can ripen. So is this
One music with a thousand cadences.


recording performed by Houston Girls Chorus
Houston, Texas
Amy Moore, conductor