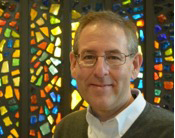 Larry E. Schultz (b. 1965) is the Minister of Music for Pullen Memorial Baptist Church, Raleigh, North Carolina, and is a productive composer and hymn writer.
His educational background includes the Bachelor of Music Degree in Theory and Composition from Oklahoma Baptist University (1986) and the Master of Church Music Degree from The Southern Baptist Theological Seminary (1989).
Among his creations are hymns, choral anthems, children's musicals, and instrumental music published by Choristers Guild, Alliance Music Publications, Alfred Publishing, Hope Publishing, Fred Bock Music, Broadman Press and others.
His hymn texts and tunes are published in The Baptist Hymnal (Convention Press, 1991), the Brian Wren hymn collection, Christ Our Hope (Hope Publishing, 2004), Hope Hymnody Online, Inclusive Hymns for Liberating Christian (Eakin Press, 2006), In Our Own Voice: Hymns of Pullen Memorial Baptist Church (2009), the Celebrating Grace Hymnal (Celebrating Grace, Inc., 2010), Inclusive Hymns for Liberation, Peace, and Justice (Eakin Press, 2011), Lift Up Your Hearts hymnal (Faith Alive Christian Resources, 2013), the Shirley Erena Murray hymn collection, A Place at the Table (Hope Publishing, 2013), Community of Christ Sings hymnal (Herald Publishing House, 2013), Earth Transformed with Music!: Inclusive Songs for Worship (Eakin Press, 2015), and Worship in the City: Prayers and Songs for Urban Settings (United Church Publishing House, 2015).
In collaboration with text writer, Jann Aldredge-Clanton, he has created three hymn collections, choral anthems, Imagine God!: A Children's Musical Exploring and Expressing Images of God (Choristers Guild, 2004), and a church music curriculum resource: Sing and Dance and Play with Joy!: Inclusive Songs for Young Children. The story of his music ministry is included in Aldredge-Clanton's books, Changing Church: Stories of Liberating Ministers (Cascade Books, 2011) and She Lives!: Sophia Wisdom Works in the World (SkyLight Paths Publishing, 2014).
His award-winning hymns and anthems include: Where Ocean Meets the Rocky Coast (Winner, 2003 Sesquicentennial Hymn Search, First Congregational Church, Scarborough, Maine); Come and Feast for All Are Welcomed (Celebrating Grace Hymnal, 2010, and Winner, Communion Hymn Search, Orange United Methodist Church, Chapel Hill, North Carolina); Song for the Generations (Choristers Guild, 2011, and Winner, first anthem competition, Polyphony Fellowship of Pastoral Musicians, 2009); From Wisdom Emerging (Winner, 25th Anniversary Hymn Search, Alliance of Baptists, 2012), God Is There (Choristers Guild, 2013, and Winner, 2012 "Kirk's Fund" Children's Anthem Competition, Hitchcock Presbyterian Church, Scarsdale, New York); SPIRIT-PRAYER (Selected in a tune search for Brian Wren's text, "We Are Your People," included in the Lift Up Your Hearts hymnal, Faith Alive Christian Resources, 2013).