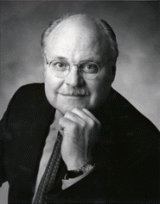 An active composer in all media, David Ashley White (b. 11 December 1944) enjoys widespread publication and performance of his sacred and secular works. Sources for his frequent commissions include Piccolo Spoleto, the Texas Chamber Orchestra, the Mirecourt Trio, the Green Lake Festival, the Concert Chorale of Houston, Del Mar College, the University of Houston, Houston Early Music, Houston Masterworks Chorus, the Houston Chamber Choir, and, most recently, KUHF-FM Radio.
White was winner of the 1993 composition contest sponsored by Saint Paul United Church of Christ, Chicago (Cantate Domino for mixed voices, brass, and organ, published by Paraclete Press), and has won first prizes from the Episcopal Diocese of Alabama, the Virginia Bandmasters Association, and the Texas Federation of Music Clubs.
In June 1998 White's The Blue Estuaries for mixed chorus a cappella, commissioned by the Houston Chamber Choir, Robert Simpson, conductor, was premiered at the national conference of Chorus America. The work, published by E. C. Schirmer, was sung again by the same ensemble at the national convention of the American Choral Directors Association held in Chicago in February 1999.
White is an accomplished composer of hymns for church usage, with a major collection of his work in this field gathered in the publication Sing, My Soul: The David Ashley White Hymnal, published in 1996 by Selah . In addition to the collection Sing My Soul, White's hymns are found in a number of books, including The Hymnal 1982 (Episcopal) and its supplement, Wonder, Love, and Praise; The United Methodist Hymnal; Japan's Hymnal for the United Church of Christ; and Great Britain's Worship Songs Ancient and Modern.
Holding a BM in oboe performance and a MM in composition from the University of Houston, White received the DMA in composition from the University of Texas at Austin. He was appointed Director of the Moores School of Music at the University of Houston in 1999. White's recent critically acclaimed compact disc recording on the Zephyr label, Echoes of the American Cathedral, (Zephyr CD 115-99)was produced by KUHF-FM with the choir and instrumentalists of Saint Paul's United Methodist Church, Houston.