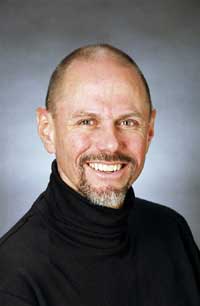 An award-winning composer as well as an accomplished and versatile musician and facilitator, Brian Tate attributes the success of his multifaceted career to a love of working with people and a passion for the arts.
Brian received his Bachelor of Music degree from the University of British Columbia and went on to further music studies in London, England, and Toronto. His love for music of many kinds has led to a diverse career that includes orchestral and choral conducting and performing, West African drumming, jazz vocals, musical theatre, and composing music for film, television, stage and the concert hall. Brian has twice received Vancouver's Jessie Richardson award for original theatre music and his choral music is performed worldwide.
As a vocalist, Brian performs at festivals, clubs, and in concert. He has also created a solo unaccompanied vocal performance using live digital looping entitled, "Head Full of Voices", and he uses this technology in improvisational collaboration with visual artist Kate Collie. Brian directed Vancouver's 80-voice multi-faith Universal Gospel Choir for eight seasons and gives choir workshops throughout North America. He is currently on the faculty of Studio 58, Langara College's professional theatre school, as well as the Banff Centre for Leadership Development, where he uses music and theatre as tools for organizational training.
As a speaker and facilitator, Brian takes the elements of creativity, intuition, and improvisation found in the performing arts and transforms them into powerful, interactive group experiences to develop leadership, innovation and teambuilding. His programs include groundbreaking work such as using musical improvisation to enhance leadership and teams, and the use of the voice as a tool for personal development. Brian brings spontaneity, humor, and originality into all of his presentations, allowing participants to experience growth and success not only in their work, but in all areas of their lives.
Brian lives in historic Strathcona, Vancouver's oldest neighborhood, with his wife Patricia and their cat Abby.
More information about Brian Tate can be found at www.briantatemusic.com