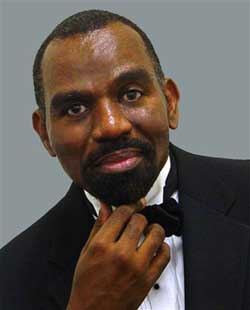 Carl W. Haywood, a native of Portsmouth, Virginia, is a cum laude graduate of Norfolk State University and a recipient of the Master of Sacred Music (organ) and Master of Music (choral conducting) degrees from Southern Methodist University. Dr. Haywood who also received the Doctor of Musical Arts degree from the University of Southern California is recognized as a superb choral conductor/organist with superior musical acumen. His matriculation at SMU afforded him opportunities to study composition, arranging, and conducting with Lloyd Pfautsch while also serving as associate conductor-organist for the SMU Chapel under Dr. Robert Anderson and Dr. Pfautsch. It was during this tenure that he composed, arranged, conducted, and sustained the Chapel's tradition for excellence in music. At USC, his principal teachers included Charles Hirt (choral conducting), Halsey Stevens (composition), and Ladd Thomas (organ).
Dr. Haywood, who has sustained a long tenure at Norfolk State University, is a devoted teacher and friend of students and young musicians. As Professor of Music, he is known not only for this thorough, and vigorous teaching style in the areas of conducting, theory, and organ, but for his untiring efforts to inspire all under his voice to reach their fullest potential. He is Director of Choral Activities at NSU and conducts the NSU Concert Choir and the Spartan Chorale. Professionally, Dr. Haywood frequently serves as a clinician, adjudicator, guest conductor, and lecturer for schools, colleges, and churches throughout the country.
In Lift Every Voice and Sing II: An African American Hymnal published by the Church Publishing Company of the Episcopal Church, Dr. Haywood who served as the Service Music Editor arranged/composed twenty-nine compositions. He is also the leading contributor to Wonder, Love, and Praise (supplement to the Episcopal hymnal.) His latest congregational compositions appear in the new hymnal supplement, Voices Found. Dr. Haywood's music is also included in the following hymnals: This Far By Faith (Lutheran),The Faith We Sing (Methodist), African American Heritage Hymnal (Catholic), Worship In Song (Friends), and Sing the Faith (Presbyterian). Other compositions include anthems, spirituals, arrangements, and the NSU ıAlma Mater.ı
Dr. Haywood is one of the leading church musicians in the field. For twenty-six years he served as organist/choir director at Grace Episcopal Church, Norfolk and has served on the Liturgical Commission for the Diocese of Southern Virginia, the Standing Commission on Liturgy and Music for the Episcopal Church of America and as Director of Music for the Union of Black Episcopalians.
He conducted the I. Sherman Greene Choraleıa semi-professional civic chorus in Norfolk for twenty-six years. A lover of Negro spirituals and masterworks, Professor Haywood has led the Chorale in successful performances of Haydn's Creation, Brahms' Requiem, The Ordering of Moses (Dett), The Lord Nelson Mass (Haydn), Scenes from the Life of a Martyr (Undine Moore), and Messiah (Handel)ıall with orchestra.
Dr. Haywood is a recipient of the ıRoy E. Woods Outstanding Teacher Awardı from Norfolk State University and has received commendations from the cities of Norfolk and Portsmouth, Virginia for his cultural contributions to citizens of the Commonwealth of Virginia. He has also received awards from the Omega Psi Phi Fraternity, the NAACP, and the National Association of Negro Musicians for his musical contributions and promotion of the music of African Americans.
Dr. Haywood is a member of the American Choral Directors Association, The American Guild of Organists, The Association of Anglican Musicians, The National Association of Negro Musicians, The Music Educators National Conference, Kappa Kappa Psi Band Fraternity, Pi Kappa Lambda, and the Omega Psi Phi Fraternity, Inc.