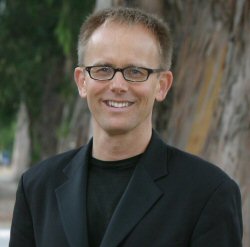 Craig Hella Johnson has earned a reputation as one of the most respected choral/orchestral conductors in the nation. His performances are consistently praised for their musical integrity and depth of artistry. Johnson's conducting experience is uniquely varied. He is a leading interpreter of works for chorus and orchestra. He moves comfortably between the choral and orchestral mediums and his a cappella performances are known for their sensitivity and nuance.
Johnson is the artistic director and founder of Conspirare, a national professional ensemble based in Austin. Since 1991, he has shaped a highly select group of musicians into a vibrant and dynamic ensemble. His performances and unique and innovative programming for Conspirare have drawn national attention. Following concerts during their summer residency in the San Francisco Bay Area, Robert Commanday praised the ensemble as " ŭ a distinctive new choral institution." Conspirare will be presenting its first recording under the Clarion label in the fall of 2004.
Since 1992, Johnson has been Artistic Director of the Victoria Bach Festival. Under his leadership, the Festival has received high praise. National Public Radio called the Festival "a Texas treasure." Of the 2000 performance of Bach's St. Matthew Passion, Michael Greenberg of the San Antonio Express-News wrote: "A full 24 hours after it was over, it was still with me-a fleet, magisterial account of J.S. Bach's St. Matthew Passion, conducted with total authority and sweeping sense of line by Craig Hella Johnson." In addition to his performances of the Bach repertoire at the Festival, Johnson has conducted many performances of 19th and 20th -century symphonic and oratorio repertoire including recent performances of symphonies of Beethoven, Dvorak, Mahler, Vaughan Williams and Ives.
In 1999, Johnson was appointed Music Director of Houston Masterworks Chorus and under his leadership, the chorus and orchestra have become known as a highly respected ensemble performing both mainstream and modern works of the oratorio repertoire. Following a recent performance, Charles Ward of the Houston Chronicle wrote, "ŭthe emotions Johnson and his musicians created were almost electric."
During the 1998 season, Johnson served as Artistic Director of Chanticleer, the only full-time choral ensemble in the United States. Recent performances with the San Antonio Symphony and Chicago's Music of the Baroque drew high praise. The Chicago Sun Times wrote, "Craig Hella Johnson inspired a glorious performanceŭhe displayed a flair for programming and a sure sense of period style." Guest teaching engagements include Westminster College and Beloit College. From 1990-2001, Johnson served as Director of Choral Activities at the University of Texas at Austin where he led the graduate program in choral conducting. He has also served as Director of the choral program for the National Lutheran Music Program. He frequently works with young singers and has conducted All State Choirs in several states.
In addition to performances of the classical repertoire, Craig Hella Johnson has continued to explore the relationship and interconnectedness of various musical styles and to play at the boundary between classical and popular music and between sacred and secular music. Many have referred to this distinctive "collage" style as a compelling and provocative aspect of his concert programs. Johnson is also a songwriter, composer, arranger, pianist and singer.
A native of Minnesota, Johnson studied at St. Olaf College, the Juilliard School, the University of Illinois, and Yale University. Under the auspices of a National Arts Fellowship, he was a student of Helmuth Rilling at the International Bach Academy in Stuttgart.