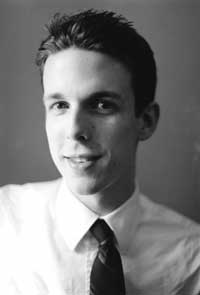 A native of Richmond, Virginia, Zachary Wadsworth (b. 1983) has received several composition awards, including first prizes in the 2007 ASCAP / Lotte Lehmann Foundation Art Song Competition, the first Long Leaf Opera One Act Opera Competition, the Boston Choral Ensemble Commission Competition, and the Pacific Chorale Young Composer Competition, a Charles Ives Scholarship from the American Academy of Arts and Letters, three Morton Gould Young Composers Awards from ASCAP, the Howard Hanson Large Ensemble Prize from the Eastman School of Music, and the Frances E. Osborne Kellogg Memorial Prize from the Yale School of Music. Recordings of his choral works ıO Saving Victimı and ıBeati Quorum Remissae&requo; are available on the Gothic record label.
An energetic compositional collaborator, he has received commissions from numerous individuals and organizations, including The Commission Project, the Hanson Institute for American Music, the Eastman School of Music, Smith College, St. Anne Church, Rochester, and St. Paul's Episcopal Church, Rochester. His pieces have been performed by the Buffalo Philharmonic Orchestra, the Atlanta Philharmonic Orchestra, Long Leaf Opera, and by ensembles at Cambridge University, Yale University, the Eastman School of Music, Westminster Choir College, Smith College, and Nazareth College.
Zachary studied music composition at the Eastman School of Music (BM, 2005), Yale University (MM, 2007), and Cornell University. His composition teachers have included Steven Stucky, Roberto Sierra, Martin Bresnick, Ezra Laderman, Ingram Marshall, Carlos Sanchez-Gutierrez, Ricardo Zohn-Muldoon, Robert Morris, David Liptak, James Willey, and Syd Hodkinson. He also studied at the Boston University Tanglewood Institute and the Aspen Music Festival and School.