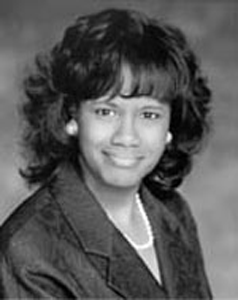 Dr. Rosephanye Dunn Powell, Associate Professor of Music, holds degrees from Alabama State University (B.M.E., summa cum laude), Westminster Choir College (M.M. in vocal performance and pedagogy, with distinction), and The Florida State University (D.M. in vocal performance). Dr. Powell served on the faculties of Philander Smith College (AR) and Georgia Southern University before coming to Auburn.
Dr. Powellıs soprano singing has brought her, successfully, through recital, concert, and oratorio performances throughout the South and Northeast regions of the United States. Her oratorio performances include Haydn's Mass in Time of War, Vivaldi's Gloria, Handel's Messiah, and Israel in Egypt, Mozart's Requiem, and Saint-Saens' Christmas Oratorio. During her career, Dr. Powell has distinguished herself as a researcher, interpreter and performer of solo vocal works by William Grant Still. She has presented numerous recitals and lecture-recitals at churches, concert halls, universities and professional meetings around the country. Her doctoral treatise, The Art Songs of William Grant Still, is considered the authoritative work on the subject, and her article "William Grant Still: His Life and His Songs" was published in the prestigious NATS Journal of Singing. Dr. Powell served as the editor for William Grant Still: An Art Song Collection published recently by William Grant Still Music.
Dr. Powell is a composer and arranger of choral music, currently published by Gentry Publications/Fred Bock Music and the Hal Leonard Corporation. Her works are in great demand at choral festivals nationally and internationally. Dr. Powellıs works have been conducted and premiered by internationally-renown choral conductors including Philip Brunelle, Bob Chilcott, Rodney Eichenberger, Albert McNeil, Tim Seelig, and Andrı Thomas. Recent commissions include Iım Gonna Let It Shine and Good News, two spirituals adapted and arranged for ıThe Spiritual for the New Millenium Projectı at Penn State University (2002); I Dream A World, composed for the University of Arkansas Concert Choir (2001); Ebony Trilogy ("E Oru O, Drinkinı of the Wine, Spread the Love"), composed for the Trumann State University Chorus (2000); The Promise Lives On ("Sing for the Cure"), commissioned by the Women's Chorus of Dallas and the Turtle Creek Chorale, for the Susan G. Komen Breast Cancer Foundation (2000); and Three Psalms of David, composed for the 1999 Missouri Choral Directors Association Student Symposium. At the 2003 National American Choral Directors Convention (ACDA) in New York, The Word Was God was performed by the National Honor Choir of Men and Boys, conducted by Bob Chilcott; and Ascribe to the Lord (SSA) was performed by the National Womenıs Honor Choir, conducted by Judith Willoughby.
Dr. Powell is a member of the American Society of Composers, Authors, and Publishers (ASCAP), the American Choral Directors Association (ACDA), the College Music Society (CMS), the National Association of Teachers of Singing (NATS) and the Music Educators National Conference (MENC). She has been included in Who's Who Among America's Teachers and Outstanding Young Women in America.