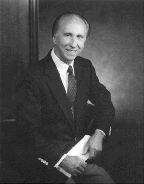 Robert H Young (1923-2011)
Born in Santa Cruz, California, April 20, 1923, Robert H. Young attended public schools there until his enlistment in the United States Marine Corps where he served from 1941 to 1945. His collegiate career includes a Bachelor of Music degree from Otterbein College, Master of Music from Northwestern University, and a Doctor of Musical Arts from the University of Southern California. He is co-author of the Anthem in England and America. He was named Distinguished Music Alumnus at Otterbein College in 1997 for his contributions to the music profession.
After serving as Minister of Music in several California churches, Dr. Young joined the faculty of Baylor University in 1962 where he remained until retirement in 1993. Through his thirty-year tenure, he was in turn Chairman of Church Music, Chairman of Vocal Studies, Chairman of Graduate Studies, and director of the Baylor Chamber Singers, an ensemble that attained a national reputation for excellence. It was his work with the Baylor Chamber Singers and the beautiful performance venue of the Armstrong Browning Library that provided much of the inspiration for his numerous choral compositions.
Dr. Young continues an active performance profile as Choirmaster at St. Paul's Episcopal Church (Waco) and as Conductor Emeritus of the Baylor Chamber Singers. Active in TMEA, ACDA and TCDA, he held the office of Vice President of the Church/Community Division of TCDA from 1994-1996. A member of ASCAP, Dr. Young has more then 90 published choral compositions currently in print. He is represented by Gentry Publications, Alliance Music Publications, Carl Fischer, Colla Voce Publications, and National Music Publishers.