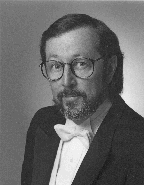 Dr. Kenneth Fulton (Stephanie Landry Barineau Professor of Choral Music and Chair of the Division of Ensembles and Conducting). Dr. Fulton has been on the faculty at the LSU School of Music in Baton Rouge since 1986. He chairs graduate choral studies at LSU and conducts the LSU A Cappella Choir, acclaimed as one of the premier collegiate ensembles in the country. He is also Chorusmaster and Assistant Conductor for the Baton Rouge Symphony and Symphony Chorus and has recently been appointed as artistic conductor for the Linz Summer Choral Music Institute in Linz, Austria.
Internationally recognized as a conductor and clinician, Fulton has appeared professionally in 32 different states. Dr. Fulton's choruses have given 18 invitational performances for national audiences of the American Choral Directors Association, and the Music Educators National Conference, the College Music Society, the Sonneck Society, and the American Musicological Society, as well as numerous regional performances for the National Association of Teachers of Singing, the Texas Music Educators Association, the Louisiana Music Educators Association, the Louisiana ACDA, and the American Society of University Composers. In addition, his choruses have won numerous awards and completed 11 successful European tours with performances in the Netherlands, France, Germany, England, Wales, Scotland, Austria, the Czech Republic, Italy, and Switzerland.
Dr. Fulton has published articles on the choral music of William Walton, Don Carlo Gesualdo, and William Byrd in the Choral Journal and the AGO Magazine and served for six years on the National Editorial Board for the Choral Journal. His choral music series is published by Alliance Music Company in Houston, Texas. He has held a wide variety of professional offices and is a past President of the Southern Division of the American Choral Directors Association, the Texas Choral Directors Association and the Louisiana ACDA.