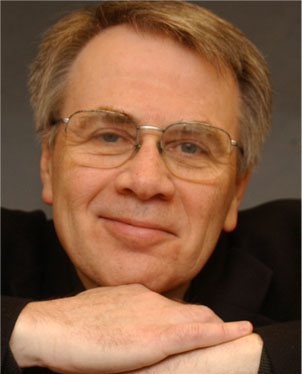 James Rodde is the Louise Moen Endowed Chair in Music and Director of Choral Activities at Iowa State University. He conducts the Iowa State Singers, the 140-voice Iowa Statesmen, and teaches choral conducting and literature. A native of Minneapolis, he received the Bachelor's degree in Music Education from Augsburg College and completed the M.A. and D.M.A. degrees in Choral Conducting at the University of Iowa.
Choirs under his direction have toured internationally and have been honored with performances at several distinguished music conferences, including the 1993, 1997, 2005, and 2009 ACDA National Conventions and the 2008 NCCO National Convention. As a teacher of conducting, his student Shelby Sievers won the ACDA National Undergraduate Conducting Competition in 2005.
An active clinician, Dr. Rodde has led several All-State and regional festival ensembles, including the 1996 and 2002 North Central ACDA Men's Honor Choir. Guest conducting engagements from 2006 to 2008 include All-State Choirs in Texas, Iowa, South Dakota, Minnesota, Colorado, and Nebraska. Upon his arrival at Iowa State in 2000 Dr. Rodde instituted the ISU Honor Choir, a highly select ensemble of high school students, chosen annually through live auditions across the state.
Alliance, AMSI, Hal Leonard, Lawson-Gould, Mark Foster, Musica Russica, and Santa Barbara have published Dr. Rodde's editions and arrangements of choral music. He has served as the North Central ACDA Repertoire and Standards Chair for Male Choirs for the past decade and is the Artistic Director of both the Des Moines Choral Society and the Ames Chamber Artists. From 1985 to 2000 he served as Director of Choral Studies at the University of North Dakota, where he was honored with the Fine Arts Faculty Award for Teaching.