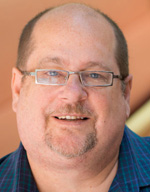 Mitchell Covington is an award-winning composer, arranger, conductor, and educator, working in the San Francisco Bay Area. His compositions include works for orchestra, chorus, stage, film, and television, and his music has been performed throughout the United States and Europe. He is the recipient of the Met Life, Aaron Copeland Foundation "Meet the Composer" Award, a Northern California Emmy Award, and numerous film festival prizes.
Mitchell received a Masters' degree in Choral Conducting from the University of Southern California in Los Angeles, graduating with honors. He has served on the Executive Boards of the California Choral Director's Association and the American Choral Director's Association&8212;Western Division. He frequently serves as guest-conductor, adjudicator, and clinician for church and school choirs throughout the San Francisco Bay Area.
Mitchell believes in the power of choral music to change lives and make our world a better place. When composing, Mitchell looks for texts with a positive message.