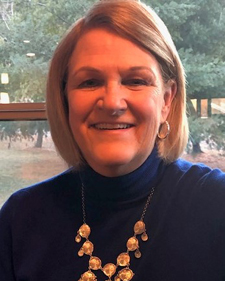 Nancy Hill Cobb is Associate Provost Emeritus and retired Professor of Music at the University of Northern Iowa. Cobb holds the Bachelor of Music in Theory and Composition from Oklahoma Baptist University, the Master of Music in Composition from Michigan State University and the Doctor of Musical Arts in Composition from the University of Oklahoma. Prior to her appointment at UNI in 2013, she was Director of the School of Music at Indiana State University (2009-2013) and Founding Director of Music at Florida Gulf Coast University (2005-2009). From 1975-2005 she was a faculty member at Mercer University, Oklahoma Baptist University and Dallas Baptist University.
Cobb's choral music is performed nationally and internationally, and her choral catalogue can be viewed at www.nancyhillcobb.com. Included there are two multi-movement works for chorus and orchestra, The Seven Last Words and Threnody, and I Dream a World, commissioned by the Metropolitan Chorale of Waterloo/Cedar Falls, IA. Also, recently published is her Suite for Reeds, for oboe, clarinet and bassoon.
Cobb's latest composition is her musical, The Suffragist, (book and lyrics by Cavan Hallman) which documents, with dramatic moments and musical spectacle, the last seven years of the fight for voting rights by American heroes Alice Paul, Carrie Chapman Catt, Ida B. Wells, Lucy Burns, Anna Howard Shaw and Inez Milholland.