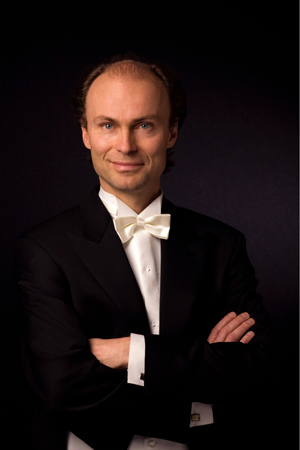 Ragnar Bohlin is renowned as one of the leading choral conductors of the world. Named Director of the San Francisco Symphony Chorus in 2007, he conducts this ensemble regularly in such pieces as Carmina Burana, Handel's Messiah, Bach's Christmas Oratorio and the B Minor Mass and preparing this it for performances under internationally renowned conductors. His outstanding work has been recognized with three Grammy Awards for Mahler's with Michael Tilson Thomas and the San Francisco Symphony including Best Classical Album and Best Choral Performance of 2009.
Guest conducting engagements have brought to many parts of the world, including the Sao Paulo Symphony in Brazil where he has conducted regularly since 2011, the Malmö Symphony Orchestra in Sweden, the Stavanger Symphony in Norway and the Edmonton Symphony in Canada where he conducts this season. He has worked frequently with The Swedish Radio Choir and was their conductor for a 2010 tour of the United States. He recorded the album Visions and Non-Thoughts with the Swedish Radio Choir that year. In 2007 Ragnar Bohlin conducted the premiere of a new Requiem by Fredrik Sixten, broadcast on Swedish Public Radio. His recording of this work with the Swedish Radio Choir was released in 2013. His recordings of Saint Mark Passion by the same composer and "Mysterium," of a cappella music, were released in Sweden in spring 2008. He recorded Sixten's St. John Passion in 2016 with the Gustaf Sjoqvist Chamber Choir in Sweden. In Fall 2016 he will conduct Mozart's C Minor Mass with the Ericson Chamber Choir and Nordic Chamber Orchestra. 2018 will bring his debut conducting London's BBC Singers and a return engagement with the Swedish Radio Choir.
As choirmaster of Stockholm's Maria Magdalena Church he appeared regularly on Swedish radio with the Maria Magdalena Motet Choir and The Maria Vocal Ensemble. He toured internationally with his Swedish choirs - the KFUM Chamber Choir, the Maria Magdalena Motet Choir and the Maria Vocal Ensemble - earning prizes in international competitions and many distinctions, including the prestigious Johannes Norrby Medal in 2006 for expanding the frontiers of Swedish choral music making. He has also conducted the Ericson Chamber Choir and the Opera Chorus of Stockholm and in June 2010, made his Carnegie Hall debut conducting Brahms' Ein deutsches Requiem.
Mr. Bohlin has prepared choruses for some of the world's foremost conductors, including Michael Tilson Thomas, Herbert Blomstedt, Valery Gergiev, Esa-Pekka Salonen and Alan Gilbert. His professional chamber choir, Cappella SF, made its debut in February 2014 and released its first recording, Light of Gold, in 2015, followed by Facing West in 2016 and Timeless in 2018.
A native of Sweden, Mr. Bohlin holds a Masters Degree in organ and conducting and a postgraduate degree in conducting from the Royal Academy of Music in Stockholm. He has taught at the Royal Academy in Stockholm and was Visiting Professor at Indiana University, Bloomington in 2008 and currently serves on the faculty of the San Francisco Conservatory of Music. In 2013 he was awarded the Swedish America Chamber of Commerce Cultural Award. He was the recipient of the 2018 Michael Korn Founders Award for the Development of the Professional Choral Art, by Chorus America, which honors an individual with a lifetime of significant contributions to professional choral art. His contract with the Francisco Symphony has been extended through 2021.
For more information about Ragnar Bohlin, go to his website at www.ragnarbohlin.com