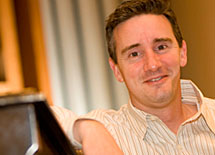 Professor of Music and Department Chair
William Jewell College, Liberty Missouri

Dr. Ian Coleman earned his Bachelor of Arts (Hons) from Bath College of Higher Education, United Kingdom, and his Master of Music and Doctor of Musical Arts, both from the University of Kansas. He also holds a Post Graduate Certificate in Education from the University of Exeter, United Kingdom, and is a Fellow of Trinity College London.
Born in Bristol, England Dr. Coleman has developed a growing reputation as a composer and arranger in American and Europe. His music has been performed in the States, Europe and New Zealand. He has written for The Band of Her Majesty's Royal Marines, the Simon Carrington Chamber Singers, The King's Singers, renowned British organist David Goode, the New Plymouth Orchestra in New Zealand and the Lyric Arts Trio.
He has been commissioned by many local ensembles to write and arrange a wide variety of music ranging from choral to symphonic band to orchestra. He enjoys working with young musicians helping to create music that is challenging yet accessible. In fact, he enjoys commissions that lead to interaction between the composer and the ensemble and which can help to create a co-creating partnership for all involved in the performance.
He was named a finalist in the 2015 American Prize for his Choral Symphony 'Leitourgia'. His music is published by J.W. Pepper and Alliance Music Publications.