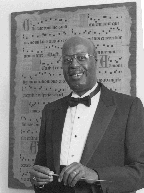 Brazeal Dennard (1929-2010) attended Detroit Public Schools as a youngster and began private music study with such notables as the late Johnnie Reid, Professor S. A. Ratliff, Dean Robert Nolan, Lloyd Murphy, and Virginia Persons. He completed his formal education at Wayne State University, earning a Masters Degree in Music Education. Throughout his career, Brazeal has served in many roles, such as guest conductor, clinician, lecturer, and church choirmaster. His numerous professional affiliations included National Endowment of the Arts, Department of Cultural Affairs for the city of Detroit, former trustee and member of the Advisory Committee of the Detroit Community Music School, former Chairman of the Music Advisory Committee for the Michigan Council for the Arts, and President of the National Association of Negro Musicians, Inc.
As Fine Arts Department Head at Northwestern High School, Brazeal skillfully prepared the school ensemble and choir to earn superior ratings in state finals competition, appear before the National Convention of the MENC, and perform on an NBC television network special. Brazeal is listed in the 1978 edition of "Men of Achievement," International Biographies, Cambridge, England. He was invited by the White House to become a member of a special committee to present White House Fellowships to highly motivated young Americans. Brazeal's testimony was requested at the field hearings on the re-authorization of the National Foundation for the Arts and Humanities Act, and also that of the Museum Services Act. Brazeal served on the Board of Directors of the Detroit Symphony Orchestra.
Founded in 1972, the Brazeal Dennard Chorale is a group of highly trained singers dedicated to developing the choral art to its highest professional level. The Brazeal Dennard Community Chorus was organized in 1985 as a community outreach program by The Brazeal Dennard Chorale to encourage participation of members of the surrounding communities and to provide them with vocal training and professional performance opportunities. The Brazeal Dennard Youth Chorale provides a very special and highly developed choral ensemble of young singers between the ages of 13 and 22. The primary function of the Youth Chorale is to seriously study and perform challenging choral literature. Brazeal Dennard was the recipient of The Maynard Klein Award in recognition of artistic excellence in the field of choral music, presented by the Michigan Chapter of the American Choral Directors Association. Brazeal Dennard was the retired supervisor of music for the Detroit Public Schools and served as adjunct faculty at Wayne State University.
More information about Brazeal Dennard and the Brazeal Dennard Chorale can be found at at brazealdennard.com