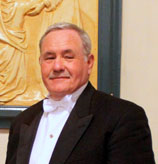 Stuart McIntosh has led a wonderfully nomadic life. With his wife, Iona and their two girls he has lived in many different parts of the UK and with extended stays both in Singapore and USA. Working abroad gave Stuart the opportunity of conducting Elgar's The Dream of Gerontius in Singapore with a huge choral society made up of over thirty different nationalities and the opportunity to sing and be assistant director with a professional choir (The St Louis Chamber Chorus) in the United States.
Stuart was born in 1949 in Lancashire and trained as a teacher at Goldsmiths College, part of the University of London. His early musical life in London was diverse but the most important part was singing with the London Bach Society under Dr Paul Steinitz who was a mentor and important influence in the world of choral music. Dr Steinitz gave him his first important conducting experience with the college chamber choir.
Stuart worked for the last nine years at Kent College in Canterbury, where he developed a large choir which performed a wide range of repertoire. In May 2006, Kent College gave the first performance of Stuart's oratorio Esau and Jacob for four soloists, two choirs and orchestra. And in 2010 Stuart conducted Bach's St Matthew Passion in German to a sell-out crowd — the dream of a lifetime.
A few years ago Stuart accepted the challenge to give a performance of the Fauré
Requiem
on Good Friday in Minster (a small village in Kent, England) with local singers and players. After a series of intensive but thoroughly enjoyable rehearsals those singers gave a truly remarkable performance of the work. That performance led on to others including Handel's Messiah and Vaughan Williams'
Five Mystical Songs
, all of which were amazing in the light of the short rehearsal times and many singers with little experience of choral singing.
Composing is a major love and many of his shorter pieces are published in America through Alliance Music Inc.. His cantata The Life of a Woman was given its first ever performances in December 2011 in Brazil by a professional orchestra and chorus in the city of Curitiba, south of Sao Paulo which Stuart conducted. A short excerpt can be heard on YouTube (http://www.youtube.com/watch?v=uHa_IErwz-k). His latest work, a setting of the latin Requiem, will receive its premiere in early 2014. Stuart continues to compose, arrange and edit music with great passion. There are over 100 hundred editions on CPDL by Stuart McIntosh.