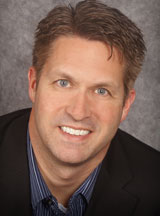 Syswerda graduated Taylor University in 1991, having studied Music Composition under Dr. Frederick B. Shulze. After graduation he headed to Colorado so he could pursue graduate studies in music. Syswerda spent the next six years living in Ft. Collins while studying Music Theory and Composition with Dr. R. Evan Copley at the University of Northern Colorado in Greeley.
After a short stint of covering sabbaticals at Taylor and teaching in adjunct roles at Taylor and Indiana Wesleyan University, Indiana Wesleyan hired him full-time in 2000, to oversee the Music Composition branch within IWU's Division of Music. This position has allowed him to be involved with the arts both within the University and the community of Marion.
Dr. Syswerda has witnessed the growth of the Music Composition program from one full-time student to an average of fourteen to sixteen, and hopes to see that number increase in the future. He stays actively involved in musical theater, and Jazz Combo (IWU's smaller jazz group), while composing and arranging countless musical pieces for student performers (from soloist to university ensembles), and composing a number of commissions.
Syswerda has also been involved in the arts within the Marion/Grant County community, from participating with the Community School of the Arts to composing original music for independent films and original stage productions to serving on two artistic boards ý Marion Philharmonic Orchestra and The Grant County Arts Alliance.