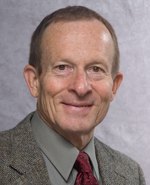 H.E. Singley is a graduate of Moody Bible Institute. He holds a Bachelor of Music from American Conservatory of Music, a Master of Music from the University of Nebraska-Lincoln School of Music, and a Doctor of Musical Arts in Church Music with organ performance concentration from Southwestern Baptist Theological Seminary.
Dr. Singley has served as a missionary to Latin America since 1973 with Impact International, Inc., and also served for ten years with missionary radio station HCJB in Ecuador. He was an invited musical guest in the associate evangelist ministries of the Billy Graham Evangelistic Association from 1972 to 1996, and has served several churches as a pastor of worship and music.
Professor Singley was appointed to the faculty of Moody Bible Institute in 1996, and teaches church music courses and private lessons in addition to his responsibilities as conductor of the Men's Collegiate Choir. He is a member of the American Choral Directors' Association, the American Guild of Organists, and the Hymn Society of America. He also is organist and Chancel Choir accompanist for College Church in Wheaton.