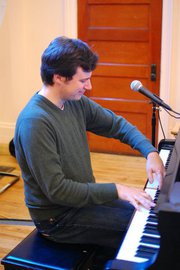 Eric M. Pazdziora, b. 1981, expressed an interest in music at an early age, starting piano lessons at age six with Mrs. Melanie Rost. His career as a composer was launched when at age eight he wrote a musical that was performed by his third grade class in Crystal Lake, IL.
Later, as a pianist at various churches in southern Wisconsin, Eric improvised arrangements of hymns and composed new worship songs, notably a full-length Christmas production that was performed by the youth at the Community Church of Elkhorn. He has also ministered as a worship leader at several churches in the Chicagoland area and southern Wisconsin.
Eric is a graduate of the Moody Bible Institute in Chicago, with a Bachelor of Music degree in Composition. His primary composition teacher was Dr. Edwin T. Childs. Orchestras, instrumental ensembles, choirs, and soloists have performed Eric's music in a wide variety of venues. In 2004, his orchestral work "Fanfare: Cum Laetitia Magna" was selected as a winner in the DuPage Symphony Orchestra "Fanfare for our Fiftieth" composition contest. Recent commissions have included choral works, instrumental pieces, art songs, film scores, and incidental music for drama.
Eric lives in Chicago, Illinois where he works as a freelance musician and as Sunday Service Coordinator for Holy Trinity Church North. He also works as Senior Copy Editor for UMI (Urban Ministries, Inc.) and as a freelance writer. He and his wife Carrie were married on July 22, 2006.
Recently, two of Eric's compositions have been accepted for publication: "Mick McGuire" (TTBB + piano) by Alliance Music Publications, and "Angels We Have Heard on High" (SATB acapella) by GIA.
For more information about Eric Pazdziora, go to his website www.ericpazdziora.com