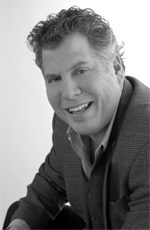 Bradley Ellingboe has led a wide-ranging career in the world of singing, including accomplishments as a choral conductor, soloist, composer, scholar and teacher. As a choral conductor he has led festival choruses in 38 states and 12 foreign countries. As a bass-baritone soloist he has sung under such conductors as Robert Shaw, Helmuth Rilling, and Sir David Willcocks. Ellingboe has over 110 pieces of music in print, including his largest work, the Requiem for chorus and orchestra, which made its Carnegie Hall debut with the composer conducting in 2010. For his scholarly work in making the songs of Edvard Grieg more accessible to the English-speaking public, he was knighted by the King of Norway in 1994. As a teacher, the University of New Mexico Alumni Association named him Faculty of the Year in 2008.
Bradley Ellingboe has been on the faculty of the University of New Mexico since 1985, where he is Professor of Music and Regents Lecturer. He has served as Chairman of the Department of Music. In the fall of 2005 Ellingboe stepped down from his post as Head of the Voice Area and assumed the title of Director of Choral Activities. He is a graduate of Saint Olaf College and the Eastman School of Music and has done further study at the Aspen Music Festival, the Bach Aria Festival, the University of Oslo and the Vatican.
Ellingboe has won annual awards for his choral compositions from ASCAP, the American Society of Composers, Arrangers and Publishers since 2000. His choral music is widely sung and is published by Oxford, Augsburg, Walton, Hal Leonard, Mark Foster, Choristers Guild, Alliance, Concordia, and particularly the Kjos Music Company, for whom he edits two series of choral octavos. His music has been performed and recorded by such groups as the Santa Fe Desert Chorale, Philip Brunelle's VocalEssence, the Saint Olaf Choir, the Harvard Glee Club, Craig Hella Johnson's Conspirare, and the choirs of the University of Michigan and Luther College, among many others.
He has prepared choirs for such luminaries as Dave Brubeck, Moses Hogan, Alice Parker, Morten Lauridsen, Rene Calusen and Robert Ray. At the request of composer Libby Larsen the UNM Women's Chorus, "Las Cantantes," recorded all Larsen's music for treble chorus.
An active church musician, Ellingboe was Director of Music at St. Paul Lutheran Church of Albuquerque from 1990-2009. He has given workshops for the AGO, PAM, ALCM, and NPM. He has been on the summer faculties of Saint Olaf College, Southern Methodist University and the Montreat Conference Center, among many others.
Professor Ellingboe is the editor of Choral Music for Sundays and Seasons (2004), published by Augsburg Fortress Press. He is also editor of two books of songs by the Norwegian composer Edvard Grieg: 45 Songs of Edvard Grieg (1988) and A Grieg Song Anthology (1990) published by Leyerle Publications.