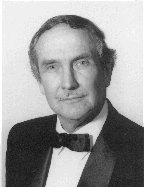 Eugene Butler has established a solid and respected position in the music world as a composer, conductor, educator, and church musician.
Butler received degrees of Bachelor of Music Education from Oklahoma University, Master of Sacred Music from Union Theological Seminary in New York, and Doctor of Musical Arts (Composition) from the University of Missouri-Kansas City.
As a composer, he has received various honors, such as Kansas "Composer of the Year" and the coveted ASCAP Standard Music Panel Award, every year since 1972. In 1983, he was selected outstanding alumnus by the University of Missouri-Kansas City. In 1986, Butler was honored with the prestigious Burlington-Northern Railroad recognition for Excellence in Teaching and also received the Distinguished Service Award from Johnson County Community College. In 1989, he received a National Teaching Excellence Award from the University of Texas-Austin. In 1991-92, Butler designed a study course and guide for Mozart's Don Giovanni under auspices of the National Endowment for the Humanities.
To date, he has over 750 published compositions with 47 publishing houses, as well as numerous unpublished manuscripts. He is frequently busy on commissioned new works and in any given week of the year, the music of Eugene Butler will be heard in thousands of performances throughout the English speaking world.
Dr. Butler served as Director of Choral Activities and Music Theory at Johnson County Community College in Overland Park, Kansas, a suburb of the greater Kansas City area. He was simultaneously Director of Music and the Arts at Valley View United Methodist Church in Overland Park, where he served for 28 years. He conducted the Johnson County Chorus, a fine civic choral group that sings throughout the Kansas City area. From 1960-1970 he served as Director of Music at First United Methodist Church in Wichita, Kansas. He has served as adjunct professor at the University of Missouri-Kansas City.
On June 1, 1998, Eugene Butler resigned all teaching and conducting positions to compose full time. In honor of his years of service to the music community, a scholarship fund has been established at the Conservatory of Music, University of Missouri-Kansas City, to be awarded yearly to an outstanding student in choral conducting. He continues to accept choral commissions for school and professional chorus and for special church celebrations, such as dedication of new sanctuaries or church anniversaries.
Eugene Butler is a busy adjudicator and workshop leader of composition seminars, choral and church music clinics, and new music repertory sessions. He has conducted and taught in 39 states, three Canadian provinces, and in England.