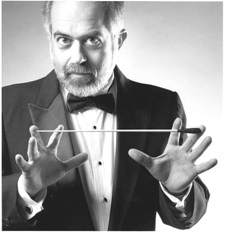 Thomas Sheets is an accomplished conductor whose work with community choruses, academic institutions and opera companies has received widespread acclaim.
During the 2007-2008 season, Mr. Sheets conducted the Masterworks Chorale of Belleville, Illinois, an auditioned 60-voice chorus in its 35th season, in programs entitled "Music for a Sacred Space" and "Your Ticket to Broadway." He also served as Interim Conductor of the 140-voice Buffalo Philharmonic Chorus, and prepared the group for performances of John Adams's Harmonium and the Verdi Requiem, the latter work for inclusion in a performance of Murry Sidlin's concert drama Defiant Requiem: Verdi at Terezin, based on the true story of sixteen performances of the Verdi given in a WWII concentration camp by Jewish prisoners.
From 1993-2003 Mr. Sheets conducted the UMS Choral Union, a highly select 150-voice community chorus based in Ann Arbor under the aegis of the University Musical Society. Following his appointment, the Choral Union began performing in several series each season with the Detroit Symphony Orchestra, as well as under Mr. Sheets's direction in Hill Auditorium on the campus of the University of Michigan. During his tenure, he conducted critically acclaimed performances of Bach's St Matthew Passion, the Berlioz Requiem with tenor Stanford Olsen, Mendelssohn's Elijah, Brahms's Ein deutsches Requiem, Handel's Messiah, Honegger's Le roi David, Durufle's Requiem and, with the Toledo Symphony, Bach's Mass in B minor. Each performance included outstanding soloists, among them Dominique Labelle, David Gordon, Nathan Berg, David Daniels, Eric Owens, John Aler, Bejun Mehta, William Stone and many others. Except for the Bach, these performances were accompanied by either the Ann Arbor Symphony Orchestra or the Lansing Symphony Orchestra. As demand for the Choral Union grew, he also founded both the 80ývoice Choral Union Concert Choir and 32-voice Chamber Chorale. He led these groups in many regional performances, and prepared the Chamber Chorale for joint performances with the Tallis Scholars and the Gabrieli Consort and Players, and also as the chorus for performances of Gluck's Orfeo ed Euridice conducted by Martin Katz and featuring Ewa Podles in the title role.
He also served as Music Director of the Toledo Symphony Chorale from 1995-1998, a position he received through a direct appointment by the symphony's conductor, Andrew Massey, and from 1999-2004 as Conductor of the Jackson Chorale, an auditioned 75-voice chorus based in Jackson, Michigan.
Before moving to southeast Michigan, Mr. Sheets was for several years Associate Conductor of the Los Angeles-based William Hall Chorale and later the Master Chorale of Orange County, both led by his mentor, Dr. William Hall. Between that experience and his work in Michigan, he has prepared all the major choral/orchestral works in the current international repertoire, in some instances for performances led by Robert Shaw, John Adams, Michael Tilson Thomas, Jerzy Semkow, Gennady Rozhdestvensky, Robert Spano, Mikhail Pletnev, Catherine Comet, Jorge Mester, Joann Faletta and others. As chorusmaster in 1988 for Long Beach Grand Opera's highly-acclaimed American premiere of Szymanowski's King Roger, his work received accolades from critics on four continents.
Thomas Sheets is a graduate of Chapman University, and received the degrees Master of Music from CSU Fullerton and Doctor of Musical Arts from the University of Southern California. He has held appointments at several colleges and universities, most recently serving on the faculty of the Wayne State University School of Music in downtown Detroit.