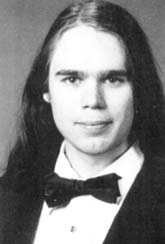 Geoff Wilcken was born in 1972 in Springfield, Minnesota. He has studied composition since 1982 under Drs. Jeffrey Prater and Gary White, both of Iowa State University. After the publication of his anthem "Lord Jesus Lay" by Augsburg Publishing House in 1984, he went on to win the Music Teachers' National Association composition contest in 1985 and again in 1986. He began serving regularly as organist at St. Paul Lutheran in Ames, Iowa in 1988. He completed a Bachelor of Music degree at Iowa State University in composition (1995) while studying under Dr. Prater, and his Master of Music degree in choral conducting under Simon Carrington at the University of Kansas (1998). He serves currently as adjunct assistant professor at Johnson County Community College, where he teaches and assists with musical ensembles, and also as director of music at Immanuel Lutheran Church in Lawrence,Kansas, where he conducts choirs, handbells, and serves as organist and pianist.
Mr. Wilcken's output as a composer and arranger includes much choral music for the church and for the concert hall, pieces for various instrumental chamber ensembles, larger works for orchestra and band, and a growing collection of vocal jazz arrangements, many of which are independently published by Melchizadek Music (www.melchizadekmusic.com). His works have been featured and commissioned by Iowa State University, the Ames Area Youth Orchestra, the University of Kansas, Johnson County Community College, the Jacomo Chorale, the Kansas City Fine Arts Chorale, the Ames Piano Quartet, the Lawrence Civic Choir, and at various churches, as well as touring ensembles across the united states, to Germany and to England. He currently resides in Lawrence with his wife Wendie and stepchildren.
Mr. Wilcken is the resident composer and accompanist of The Lawrence Civic Choir, Lawrence, Kansas. His work,
Psalm 90
, has been performed by the choir several times, including our October 2001 concert at the National Cathedral in Washington, DC.