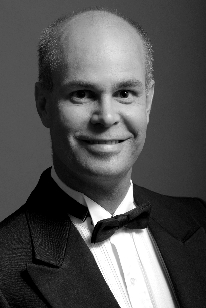 Brook Carter Larson is the new Artistic Director of the Orpheus Male Chorus of Phoenix. Before joining Orpheus, Dr. Larson taught Choral Music Education classes at Arizona State University for six years. During his time at ASU, Dr. Larson founded and directed two choirs: the Sun Devil Singers and the ASU Men's Chorus. In addition to directing choir, Larson taught choral methods, supervised student teachers, and coordinated field experience for music education majors. Before his time at ASU, Larson taught at the middle and high school levels.
Larson received a Doctor of Musical Arts in Choral Conducting from Arizona State University. He also holds degrees from Bowling Green State University (Ohio) and Moorhead State University (Minnesota). Larson's mentor teachers at these institutions include R. D. Mathey, Paul Sahuc, David Stocker, and George Umberson. Upon completion of his doctoral studies, Dr. Larson also had the great honor of studying privately with the late Doug McEwen, emeritus professor of Arizona State University.
Recently, Larson has conducted the Arizona Music Educators Association Junior High School All–State Choir, the Greater Phoenix Honor Choir, Festivals and Regional Honor Choirs throughout Arizona, and Tucson's inaugural Boys to Men Festival. Dr. Larson is currently the Repertoire & Standards Chair for Male Choirs for the Arizona chapter of the American Choral Directors Association ACDA. His active research includes vocal physiology and its relation to choral warm–ups, the application of analysis (specifically, Schenkerian) toward performance, sight–singing and ear training pedagogy, and several choral arrangements. He also directs the Chancel Choir at St. Peter Lutheran Church in Mesa. Larson lives in Mesa with his wonderful wife, Laura, and their daughter, Gemma.