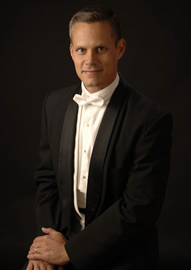 Dr. Kirk Aamot is Director of Choral Activities and Associate Professor of Music at Montana State University in Bozeman, MT following the 39ıyear tenure of Lowell Hickman. Prior to this appointment, he was Director of Choral Activities at the University of MichiganıFlint, Conductor of the Flint Festival Youth Chorus, and Director of UMıFlint's Summer Academy of Music ı a fourıweek program for Flint area middle school and high school students. Previously, he taught high school choir and middle school general music in suburban St. Paul, Minnesota, and served as director of adult and children's choirs at Holy Spirit Lutheran Church in Boulder, Colorado.
Aamot is a graduate of St. Olaf College, where he studied choral conducting with Anton Armstrong and Kenneth Jennings. He earned the Master of Music degree from the University of Minnesota under the guidance of Kathy Romey and Thomas Lancaster, and the Doctor of Musical Arts degree in the Literature and Performance of Choral Music from the University of Colorado, Boulder while studying with Joan Conlon and Larry Kaptein. His voice teachers have included James McKeel, Clifton Ware and Patrick Mason.
Aamot's editions of choral music are published by Hal Leonard, Kjos Music, Santa Barbara, and Alliance Music Publications and his reviews of choral music performance practice and teaching philosophy have been published in state, regional and national publications of the American Choral Directors Association. Areas of research and performance interests include the embellishment of Renaissance vocal music and the music of William Billings.
Aamot is past president of the Michigan chapter of the American Choral Directors Association and a board member of the National CollegiateChoral Organization. He is also a member of the International Federation of Choral Musicians, the Music Educators National Conference, and the National Association of Teachers of Singing.