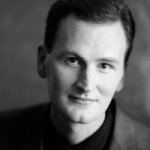 A native of Louisiana, Paul Andrew Neal continues to build upon a growing career as a versatile musician, serving as conductor and singer for many prestigious institutions. Dr. Neal is currently the Director of Choral Studies at Valdosta State University where he oversees the choral program and serves as Assistant Conductor to the Valdosta Symphony Orchestra. Prior to his appointment at Valdosta State University, Paul served on the faculty at Kilgore College in Kilgore, Texas. Dr. Neal has studied with such conductors as Donald Neuen, Dennis Shrock, Jerry McCoy, and Gerald Steichen.
Before moving to Georgia, Dr. Neal served as Assistant Conductor for the Angeles Chorale, one of the largest community choruses in Los Angeles area. In September 2006, he served as Assistant Conductor at a festival celebrating the music of Morten Lauridsen with the composer in residence in Monterey, California. Due to the conductor's illness and with only a few hours notice, Dr. Neal conducted the concert and was later described by Lauridsen as a "brilliant young conductor." In October 2007, he will conduct the Ceramic City Choral Society in North Staffordshire, England.
He has also served as Assistant Conductor for such groups as the Santa Fe Desert Chorale and the Texas Choral Artists. Dr. Neal was the Chorus Master for Opera East Texas for five seasons, and served as the Musical Director for the acclaimed Texas Shakespeare Festival, preparing and conducting such shows as Shenandoah and Forever Plaid.
In addition to his conducting responsibilities, Paul was a Roster Chorister in the Grammy-nominated Los Angeles Master Chorale for two seasons. In 2004, he was the only American singer accepted in Baroque Voices, a master class sponsored by the International Federation of Choral Musicians near Milan, Italy. Dr. Neal served as a chorister for the soundtrack of the Warner Brothers film, The Lady in the Water Recently, he sang in performances with the Jacaranda Music Festival in Santa Monica, California and the Ojai Music Festival.