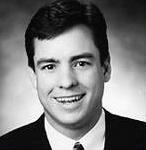 Mark Patterson is quickly gaining recognition as a composer, music educator and choral clinician. He is a part–time Instructor in the School of Music at Texas Tech University, Lubbock, TX, where he is pursuing a PhD in Music Education. Prior to beginning his doctoral studies, Mark was Director of Choirs at Covington Middle School and Director of the Choristers Choir at Covenant Presbyterian Church, both in Austin, TX. Mr. Patterson holds Bachelor of Arts and Master of Music degrees from the University of Texas at Austin.
He is frequently invited to conduct honor choirs and choral festivals across the United States and is often asked to lead workshops for choral directors. In both church and school settings, Mark is well known for his work with the child and adolescent voice, for developing imaginative approaches to teaching in the choral rehearsal and for working to cultivate a quality sound in even the most challenging of ensembles.
Mr. Patterson's choral compositions for adults, youth and children comprise a rich variety of styles for the sanctuary, classroom and concert hall. His works are known for their meaningful texts, memorable melodies and rhythmic vitality. Currently he has over 200 works in print with numerous major publishers. Mark has been a recipient of the ASCAP Award in composition each year since 1997.