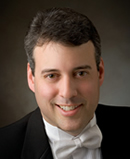 CAMERON ROSE, Director of Choral Activities and Assistant Professor of Music at the University of Texas at Tyler, is an active conductor, composer and arranger across a wide spectrum of music. Mr. Rose graduated cum laude from Brigham Young University with a Bachelor of Music degree in Composition as well as having studied choral performance with Mack Wilberg and piano performance with Irene Peery. He was a Graduate Fellow at the University of Minnesota earning a Masters in Composition and studying with Pulitzer Prize recipient Dominick Argento as well as Stephen Paulus and Judith Lang Zaimont. Mr. Rose then completed a post–graduate program in Scoring for Motion Pictures and Television at the University of Southern California, working with numerous individuals including Academy Award winning composer Elmer Bernstein. Mr. Rose received his Doctorate of Musical Arts from the University of Utah, under the direction of Brady Allred, where he served as assistant conductor, composer, and accompanist for the University of Utah Singers and A Cappella Choir. In this capacity he performed in tours of England, France and Spain where the University of Utah Singers won the 2006 European Grand Prix of Choral Singing and were featured at the 2007 Choralies Festival in Vaison–la–Romaine.
From 1998 until 2000, Mr. Rose served as Executive Office Special Projects Manager with the Los Angeles Philharmonic Orchestra. From 2002 until 2005, he served as Chorus Master and Assistant Conductor with the American West Symphony & Chorus, premiering many original works with the chorus and orchestra including performances in the Salt Lake Tabernacle and Assembly Hall on Temple Square. In 2004 Mr. Rose also made guest conducting appearances with the Paradigm Chamber Orchestra in Salt Lake City, premiering William Wallace's Viola Concerto, with Joel Rosenberg as soloist. In 2005, Mr. Rose founded the Utah Master Chorale, an auditioned ensemble of 40 voices, directing the choir for three years in highly attended performances throughout the greater Salt Lake City area. In 2008, Mr. Rose was named the Director of Choral Activities at the University of Texas at Tyler where he currently conducts the Patriot Singers and University Chorale. He also conducts the East Texas Symphony Chorus. Mr. Rose equally enjoys conducting choral and orchestral music, scoring for the media, and composing for concert performance. Among others, his choral and church music has been performed by the Plymouth Church Chorus under the direction of Philip Brunelle, as well as performed and recorded by the award–winning University of Utah Singers, under the direction of Brady Allred. His concert work, Epilogue for soprano saxophone and piano, was an awarding–winning composition of the 1994 Delius Composition Festival. He has also received commissions from and performances by Letica Oaks Strong, violist with the Los Angeles Philharmonic. Mr. Rose's media works have accompanied award–winning independent films, including scores for the 1998 WorldFest Award–Winning film, the 2000 Jack Nicholson UCLA Distinguished Award–Winning film, and 2002 Salt Lake Winter Olympics. In 2001 he established Providence Music Publishing Company, presenting a repertoire of newly–composed concert works, and high–quality sacred music for worship services. He is also published by Alliance Music Publishing.
Mr. Rose is also an accomplished pianist and accompanist, including performance as a "Rhapsody in Blue" pianist during the 1984 Los Angeles Olympic Opening Ceremonies.