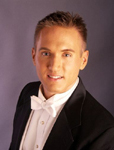 Howard Helvey (b. 1968) resides in Cincinnati, Ohio, where he is active as a composer, arranger and pianist; and serves as organist/choirmaster of historic Calvary Episcopal Church. Nationally he is in frequent demand as a guest choral composer, conductor, and speaker. As a pianist, Mr. Helvey regularly collaborates with distinguished artist Richard Steinbach in concerts and recordings of four–hand and two–piano literature. Performance highlights have included concerts in Philadelphia, San Francisco, Chicago, Madison (WI), Kansas City, Houston, St. Louis, Aspen, Cincinnati, Toronto, London (England), and—by invitation—as duo artists at the 2000 national meeting of the Music Teachers National Association convention in Minneapolis. Widening their exposure through television appearances in the United States and Canada, the Steinbach/Helvey duo has offered its performances to a broad and diverse community. 2001 saw the international release of their critically–acclaimed debut CD recording Piano Duo which included the brilliant and rarely–performed masterwork Eight Variations on an Original Theme in A–flat Major by Franz Schubert. The duo's orchestral debut took place in April 2003 as they performed the Mozart Concerto in E–flat Major for Two Pianos at the University of Southern Mississippi. The Steinbach/Helvey duo is managed by Phillip Truckenbrod Concert Artists.

Known particularly for his published and commissioned choral music, many of Mr. Helvey's compositions have been featured on various recordings, national network and PBS television broadcasts, in such eminent concert venues as New York's Carnegie Hall, the Walt Disney Concert Hall (LA), the Meyerson Symphony Center (Dallas), the White House, the National Cathedral (Washington, D.C.), and numerous locations throughout Europe and Asia. In addition, his music has been performed at regional and national conventions of the American Choral Directors Association and other professional music organizations. Drawn particularly to folk–based melodies and ancient hymn tunes, Mr. Helvey often incorporates them into his own writing. His choral arrangements of folk–based material have been acclaimed as "engaging" (Choral Journal), "definitive" (Journal of the Association of Anglican Musicians), "magical" (The Hymn) and—in response to his occasional inclusion of jazz elements—"fun and certain to be of interest" (The Diapason). Having received commissions from numerous church, university, and professional choirs, Mr. Helvey's 100+ published musical works have sold over a million copies worldwide. In 2002 and 2003, he received John Ness Beck Foundation Awards for his distinguished contribution to sacred choral music. Besides his composer relationship since 1992 with Beckenhorst Press, Mr. Helvey's music is published by Oxford University Press, Lawson–Gould, E.C. Schirmer, MorningStar, Hinshaw, Alliance Music and Boosey & Hawkes, among other companies. In 2002 and 2003, he received John Ness Beck Foundation Awards for his distinguished contribution to sacred choral music.

A Missouri native, Mr. Helvey holds a Bachelor of Music degree in composition from the University of Missouri–Columbia and a Master of Music degree in composition and piano performance from the University of Cincinnati's College–Conservatory of Music. Designated an undergraduate Chautauqua Scholar, he pursued additional studies in piano at New York's Chautauqua Institution. Mr. Helvey has studied piano with Raymond Herbert, Jan Houser, Richard Morris and Dolores Gadevsky; and his composition teachers have included John Cheetham, Thomas McKenney, Darrell Handel and Frederick Bianchi. As one passionate about effective congregational hymn–singing, Mr. Helvey received additional training in hymn–accompanying and organ improvisation from Gerre Hancock.