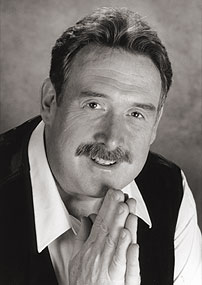 Nick Page is a composer, conductor, author, and song leader. From 1983 to 1986, Mr. Page was a conductor with the Chicago Childrenπ's Choir and he currently directs the Mystic Chorale of Boston as well as leading sings and workshops throughout the Americas and Europe. He has guest conducted at many festivals and concert venues including Carnegie Hall. He is the author of three books for teachers including his SING WITH US songbook (Hal Leonard) and SING AND SHINE ON (World Music Press). His articles have appeared in numerous music journals (as well as his essays in the "Choral Family" section of thie website). Nick has over fifty published choral pieces from Hal Leonard, Boosey & Hawkes, Transcontinental, and World Music Press. He has a Music Education degree from Ithaca College and a Masters in Education from Lesley College. See testimonies on Nick's homepage..
Nick Page has been surrounded by singing all of his life. Every Saturday night his family would gather around the fire to sing folk songs, pop songs, spirituals, and rounds – songs in harmony. Nick does not see these early experiences as being old fashioned or from a distant past, long ago replaced by television. Instead, he sees these experiences as being necessary for growth, both as an individual and as a member of society.
Believing that there should be no separation between the talented and the untalented, Nick Page makes his living as a song leader. He works with children who have an inborn love of singing and he works with adults, many of whom have lost their love of singing a long time ago. Nick renews the love. He also works with educators, both classroom teachers and music specialists. The main themes in his teacher workshops surround the perspectives of multi––cultural and multi––sensory learning, particularly with the aid of singing.
Nick Page completed his Masters in Education in 1993 (Lesley). His undergraduate degree was from Ithaca College (1975), where he majored in Music Education. While at Ithaca, he composed his first full work called, Comic Requiem, Son of Faust which he presented to a full house. After college, he taught at all levels K–12 and he continued to compose and arrange choral works as well as musical comedies.
In 1983, he moved from his native New England to Chicago where he worked as a conductor and Training Units Director with the six hundred strong Chicago Children's Choir. The experience changed his life. He became intoxicated with the worlds of Black Gospel and Jewish liturgical music. The passion of the music drove him to study more music of great energy, particularly the choral styles from diverse cultures. He studied the South African Mbube choral style with Joseph Shabalala of the group Ladysmith Black Mambazo. He studied jazz and pop choral styles with Bobby McFerrin and Richard Greene from The Bobs. He studied Ethnomusicology, particularly the music of Africa and India.
In 1987 he took a workshop with Ysaye Maria Barnwell of the woman's singing group Sweet Honey in the Rock. She created an amazing singing ensemble from a group of people, most of whom had never sung before in their lives. This, plus the way she brought the culture behind the music into total focus, was an inspiration for Nick Page. He had returned to New England by then. He began leading sing–a––longs for people of all ages. He has traveled across North America leading what he calls POWER SINGS with adult groups, elementary, junior high, and senior high school students as well as at many colleges.
Nick founded THE MYSTIC CHORALE in 1990. The two hundred–member chorus presents concert/sing–a–longs where the audience is an equal partner in creating the music. They have presented concert/sing–a–longs on many cultural themes including South African, Central European, Celtic, Jewish, North American, Latin American, in addition to the annual Gospel sing that features both black and white gospel music. They have performed in Canada, Europe and New York and will travel to Costa Rica in July, 2004.
In addition to his many choral pieces and songs, Nick has written three musicals. The first two were for children, THE GIMME GIMMES and OLLY OLLY END FREE. His last musical was a three–act comedy, ATTACK OF THE WINDMILLS.
Mr. Page is the author of two how–to music books. The first, Sing and Shine On! The Teacher 's Guide to Multicultural Song Leading (World Music Press), explains why singing and music are essential for learning and it gives detailed song leading instructions. The second book, Music As A Way Of Knowing (Stenhouse), shows how to use music to teach reading, writing, math, science, and social studies. Nick's articles on music have appeared in numerous choral journals.