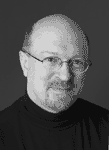 David Maddux has composed and arranged music in a variety of applications for over three decades. From winning six free accordion lessons in a music store fishbowl drawing as a child, he moved on to surprise his parents by mimicking his sister's John Thompson piano pieces. Years later, it seemed a short leap to landing the role of featured piano soloist in the apocalyptically sweeping Jennifer Lopez motion picture epic, "The Wedding Planner".
David has been the primary on–call arranger for Seattle Men's Chorus since 1990, has directed the Seattle Lesbian and Gay Chorus, and was founding director of the musical–theatre troupe, Pro Homo Voci. He has served as resident music director of Seattle Civic Light Opera, and has acted as consultant to Disney Entertainment. He has arranged and orchestrated revues and materials for Harvey Fierstein, Rosemary Clooney, Lily Tomlin, Nell Carter, Armistead Maupin, and Ann Hampton-Callaway.
David lives in Seattle with his partner of 11 years and two neurotic cats. In the mid-90's, he took a year off from writing and arranging to attend Seattle Culinary Academy from which he emerged as a trained chef. Each of his musical compositions and arrangements now contains a hidden recipe.