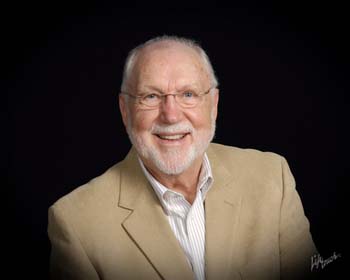 Bill Hunt (b. 1931) is a native of southeastern Oklahoma where he was an outstanding high school athlete. He holds the BM degree from Texas Wesleyan and the master's and doctorate degrees from the School of Music at the University of North Texas.
As a high school choral director in Texas, he founded the choral program at Killeen High School in 1954 and followed with award-winning choirs at Pampa High School, and McAllen High School. In 1965 he began a 37-year career in higher education at Tarleton State University in Texas, followed by a stint as Director of Choral Activities at the University of Oklahoma before becoming established at Northwestern State University of Louisiana in 1971 as Director of Choral Activities and Professor of Music. Many of Dr. Hunt's students have had outstanding careers as teachers and performers.
In addition to teaching, Dr. Hunt has served as chorus master for operas and major choral works with symphony orchestras of San Antonio, Dallas, Oklahoma City, New Orleans, and Shreveport; directed music in churches in Killeen, Pampa, McAllen, and Fort Worth; served the Louisiana Outdoor Drama Association as officer and music director; was member and officer of professional organizations in Texas, Oklahoma, and Louisiana, and has appeared as choral clinician and adjudicator throughout the southwestern states.
In recognition of his work editing and performing Celtic and American traditional music, Professor Hunt was inducted in 2002 into the Louisiana Hall of Master Folk Artists. After 48 years as teacher and university administrator, in 2002 Bill Hunt retired to his studio to make music with his friends. Now living in Georgetown, Texas, Bill sings master choral works with the San Gabriel Chorale based at Southwestern University and continues to perform traditional music with the Back Porch Band of Natchitoches, Louisiana, and the Back Porch Friends of Georgetown, Texas.