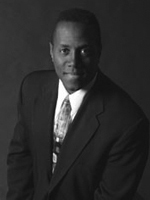 Dr. Paul Tucker
Director of Choral Activities

Paul Tucker joined the University of Kansas following his completion of a PhD in musical arts with a focus on choral conducting at the University of North Texas, Denton. He also received a master's degree in music with a focus on choral conducting from the University of North Texas, and a bachelor's degree in music from the University of Texas at Arlington.

Tuckers' background in choral conducting and music comes from a variety of experiences in many places. He was born in Kingston, Jamaica, and began piano studies at age 8, playing for church services by age 10. He studied piano, choral conducting, orchestral conducting and orchestration at the Jamaica School of Music. He moved to the United States at age 17, and continued music studies in California, where he served as assistant conductor of the Riverside Community College Chamber Singers and also worked as a staff accompanist for the college.

Tucker worked as a music teacher at Burton Adventist Academy in Arlington, Texas, and as director of choral activities at Richland College in Dallas. He also served as a minister of music at the Arlington Seventh-day Adventist Church in Arlington and at the New Hope Lutheran Church in Keller, Texas.